Blairtummock, where policy comes to life
The Blairtummock Childcare Centre of Excellence in Glasgow's Easterhouse is a perfect example of how an ambitious and regionally collaborative approach can bring the benefits of childcare expansion right into the lives of children, their families and a community.
The nursery is a partnership between Rising Stars Childcare managed by Jobs and Business Glasgow, and Glasgow Kelvin College. It provides excellent and innovative nursery and after-school care for more than 70 children; letting parents take up employment and training opportunities.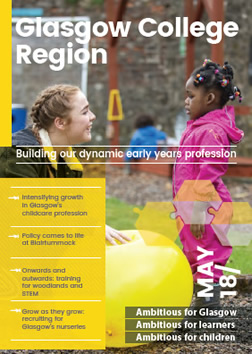 Blairtummock is also an experiential a teaching space where as many as 85 of Glasgow Kelvin College's Early Years and Childcare students at any one time can train by integrating their classroom and workplace learning. The centre will give 232 local people the opportunity to gain college childcare qualifications, at a facility on their doorstep, and with job opportunities at the end.
Children at Blairtummock enjoy the advantages of the centre's large garden and can spend as much as 70 percent of their time outdoors. The Nature Kindergarten offers woodland play and learning for up to 6 hours a day in Cardowan Moss and Todds Well forests where children learn about using real tools, building dens and lighting fires.
Blairtummock joins the dots between policy, regional strategy and real, on-the-ground learning experiences. Its training role is helping to train early years professionals; its excellent care and teaching is giving children a great start in life; it is creating learning and employment opportunities for parents; it is supporting families and; it sits right at the heart of a Glasgow community.
Glasgow College Region gears up to expand training 
Deepening Glasgow's early years profession
Outwards and onwards: woodlands and STEM learning
Grow as they Grow: recruiting for Glasgow
What the people say: students and professionals talk about early years