What the people say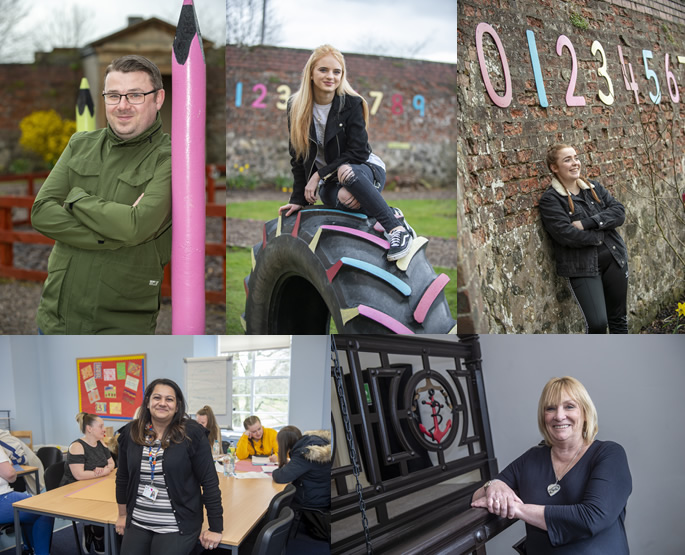 Kirsty: Level 9 Student at Kelvin College
 "I've always wanted to work with young children and I'm laying the foundations for a career. I plan to do a BA in Childhood Development next."
Lisa: Modern apprentice
 "I'd always wanted to work with young children and, now that my own kids are older, I can restart my career. I never expected to find myself working in the woods, building fires and dens, and cooking over an open fire but I can't believe how much I enjoy it. The children are so free, creative and adventurous here. They make their own fun, develop practical skills and learn how to manage risk."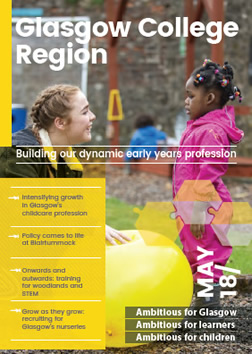 James: a parent
"We live across the road, had watched the building being restored and spent three hours at the Open Day so, when my son, Ethan, actually started nursery, he was familiar with the place and the people. I can't praise Blairtummock enough. Ethan loves being outdoors so the garden and the forest suit him perfectly. He has developed so much social and practical confidence that he's a changed boy. The staff here are brilliant. We work shifts and the care and confidence that Ethan gets from Blairtummock have made our life easier and Ethan's life happier."
Dominique: Level 7 student at Glasgow Kelvin College
"I get great satisfaction from helping children to develop confidence and self-expression. In the longer term, I hope to work with prisoners' families and help give them the best chance of building happy lives based on self-esteem and good relationships."
Jodi: Level 7 student at Glasgow Kelvin College
 "I want the experience, fun and satisfaction of working full time with young children. It's what I've always wanted and it's a natural career choice for someone from a large extended family. I'm the oldest child and I've always enjoyed playing with my younger siblings and cousins and seeing them grow and learn. Studying at Blairtummock gives me more time with the children. We can get to know each other better and learn more from each other."
Pam: Operations Manager
 "Many of our students are local. They get a complete and integrated experience here and develop a broader professional understanding as a result. They take their skills and ambition forward into the profession and back to their own families and communities. Blairtummock is right in the middle of Easterhouse and the families who use it benefit from more than childcare. Their children get an excellent early years education that helps builds their life skills and confidence. Parents, knowing that that their children are thriving, can work and improve their lives."
 Jenny: Level 9 Student at Glasgow Clyde College
"I've really enjoyed all elements in Childhood Practice, particularly researching into areas such as legislation and family support. It has made me think about what I do and what I implement in the workplace. It has been very beneficial and, to anyone who is considering applying to study for the Level 9, I'd say, 'Go for it'"
Iqra: ESOL student
"We highly recommend this course because it's very interesting if you love children. We have learnt a lot of innovative and informative information while doing this course. This course provides a platform where we can know about different culture and it also prepare for next course."
Alexis: Career Changer at Glasgow Clyde College
 "The Career Changers Childminding course has led me to think about starting my own childminding business. The course is taught by the Scottish Childminding Association and Glasgow Clyde College staff. We learn about the business side of being a childminder, about safeguarding, and about promoting children's development and wellbeing."
Rammanjit: a lecturer at Glasgow Kelvin College
"The colleges are working hard to attract people of all ages and backgrounds into the profession. At Kelvin, we're developing ambitious new courses that will develop the high calibre practitioners needed to meet the extended childcare provision."
Lyall: Men into Childcare Level 7 student at Glasgow City College
"It was a big career jump for me, but the college was amazing," said Lyall. "The lecturers are there to help and guide and this was the most relaxed I ever felt in education."
Thomas: Approved by Dads graduate
"It had never occurred to me to do something professionally in early learning and childcare as it's seen as a female job. But men should not be put off by this. I've been in and out of jobs trying to find what's right and I finally have now."
Allan: Glasgow City Council Career Changer
"My new role is very different from what I was used to. Until now, my career has always involved managing people. It's a bit odd no longer having that responsibility, but also extremely liberating as it enables me to focus on the needs of the children. It has been a challenge adjusting to the Level 7 coursework as it's been years since I have undertaken any formal learning or academic qualification. The college has been very supportive, and it is through their support that I am now a fully qualified Child Development Officer".
Glasgow College Region gears up to expand training 
Blairtummock, where policy comes to life
Deepening Glasgow's early years profession
Outwards and onwards: woodlands and STEM learning
Grow as they Grow: recruiting for Glasgow