Outwards and onwards
Woodlands learning 
As the region's childcare offer expands so do opportunities to create new and exciting early years experiences for Glasgow's children. Outdoor education offers younger children a great learning experience and help in building their confidence, skills, fitness and understanding of nature and science.
In programmes such as Castlemilk's Welly Wanderers and Blairtummock's Woodland Kindergarten children enjoy the fresh air and freedom of learning outside.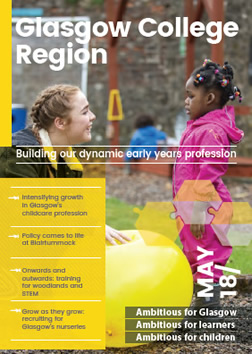 The right training provision is important if the region is to respond to the growing appetite for outdoor education. 
We need to train workers with specialist knowledge and skills by integrating outdoor play into SQA units such as Play in Practice; Play in Early Education and Childcare and Support for Play, Learning and Development. This will allow all our students to develop the confidence and competencies they need to support outdoor play and help to embed it in early years and childcare practice.
Outdoor early education is gathering popularity further afield too. A recent study tour from Okanagan College, British Columbia, Canada joined Glasgow Clyde College students in Glasgow's Pollock Park to develop their understanding of play in a woodland environment.
The Glasgow College Region is already driving a training response to meet the growing demand for outdoor education and to support the Scottish Government's commitment to its benefits.
STEM: Innovative teaching and learning 
The Glasgow College Region is taking an enterprising and energetic approach to developing STEM teaching skills amongst its professionals and creating learning opportunities for children.
Glasgow Clyde College, which is STEM assured, works with nurseries, primary and secondary schools across Glasgow to develop creative, innovative and practical ways to engage parents, particularly in areas they may find challenging, such as STEM, numeracy and literacy.   
The college delivers STEM training to the Scottish out of School Network and has helped the Worker Education Association in publishing its Science for a Successful Scotland materials. These offer STEM understanding and support to parents and people who work with children.
STEM skills are being integrated into the college learning of all childcare and Early Years students in the Glasgow College Region to ensure that they can inspire and educate young children in these important subject areas.
Glasgow College Region gears up to expand training 
Blairtummock, where policy comes to life
Deepening Glasgow's early years profession
Grow as they Grow: recruiting for Glasgow
What the people say: students and professionals talk about early years